IT ALL started with her! 1989 it was not easy to begin shooting of riding ladies. People had no fantasy, no internet, women were much more shy and timid than today. So meeting Diana was great luck. We had been workmates in advertising agency, and she told about her favorite hobby - Riding. One day i simply asked her - and she did the job. So easy things may run!
Diana still says that our first pics on a Dandelion meadow have been the best we ever made. But she was always an excellent rider and we had many marvelous shootings, almost every year. In the beginning there was no idea of movies, and when we started this new adventure in 2005, Diana was busy by founding own family. Later, after moving, shootings became additional complicated. So she's indeed starring in a hundred and more pic series - but only in a few movies.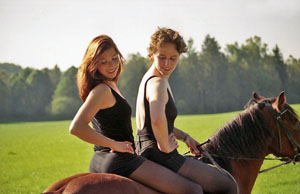 That's the state of Play. Practically our "founder" Diana is out of business..., but never say never...